CORPORATE EVENTS & TRAINING
VENUE HIRE
The POPArt Venue is available for hire for corporate events & presentations (sound & AV equipment included at a rate of HALF DAY R 3000| FULL DAY R 5000.
In addition, we are able to arrange MC's & talent from our extensive database to fit your budget.
COMMUNICATIONS TRAINING/ TEAM BUILDING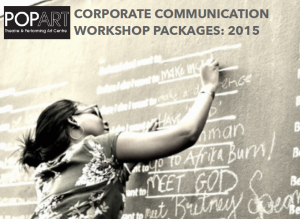 POPArt has devised a range of communications and team building packages, using the foundations of the craft of acting to uncover and reinforce effective communication skills that can be applied to the workplace. Each package offers specific outcomes, many of the packages also encourage team building, participation and collaboration.
DOWNLOAD Communication Workshops 2015 for specifics & pricing
TEAM BUILDING
Theatre shows may be booked out by companies for "Instantainment". With a capacity of 60 seats, and a variety of shows in our catalogue, the theatre offers teams a great way to relax and unwind enjoying a night of original entertainment together. Our Bar & Box Office can also provide full catering.
Any of POPArt's Special Projects concepts, such as Food Hall or Dating in the Dark, can be adapted and produced specifically for teams.
*Bulk rates apply.
Bookings & Queries: popartjhb@gmail.com | 0832451040