"Tell me and I forget. Teach me and I remember. Involve me, and I learn." – Benjamin Franklin.
POPArt's exciting range of offerings for learners creates visual and immersive experiences for learners to truly absorb curriculum work. Both the Drama and English syllabus' offer us the opportunity to do what we do best to help facilitators and learners engage material in new and interesting ways. In addition, we are always more than willing to bring our drama & improv facilitation skills to any group of learners on an ad hoc basis.
POPArt has developed a reputation for showcasing new, popular and entertaining theatre works and in particular, has contributed substantially to developing a younger audience for live performance in Johannesburg. We aim to create and present theatre that appeals to a wide range of audiences and fits within the parameters of the modern generation audience attention span. We work with some of the top names in the South African entertainment industry to bring you fresh and unforgettable theatre.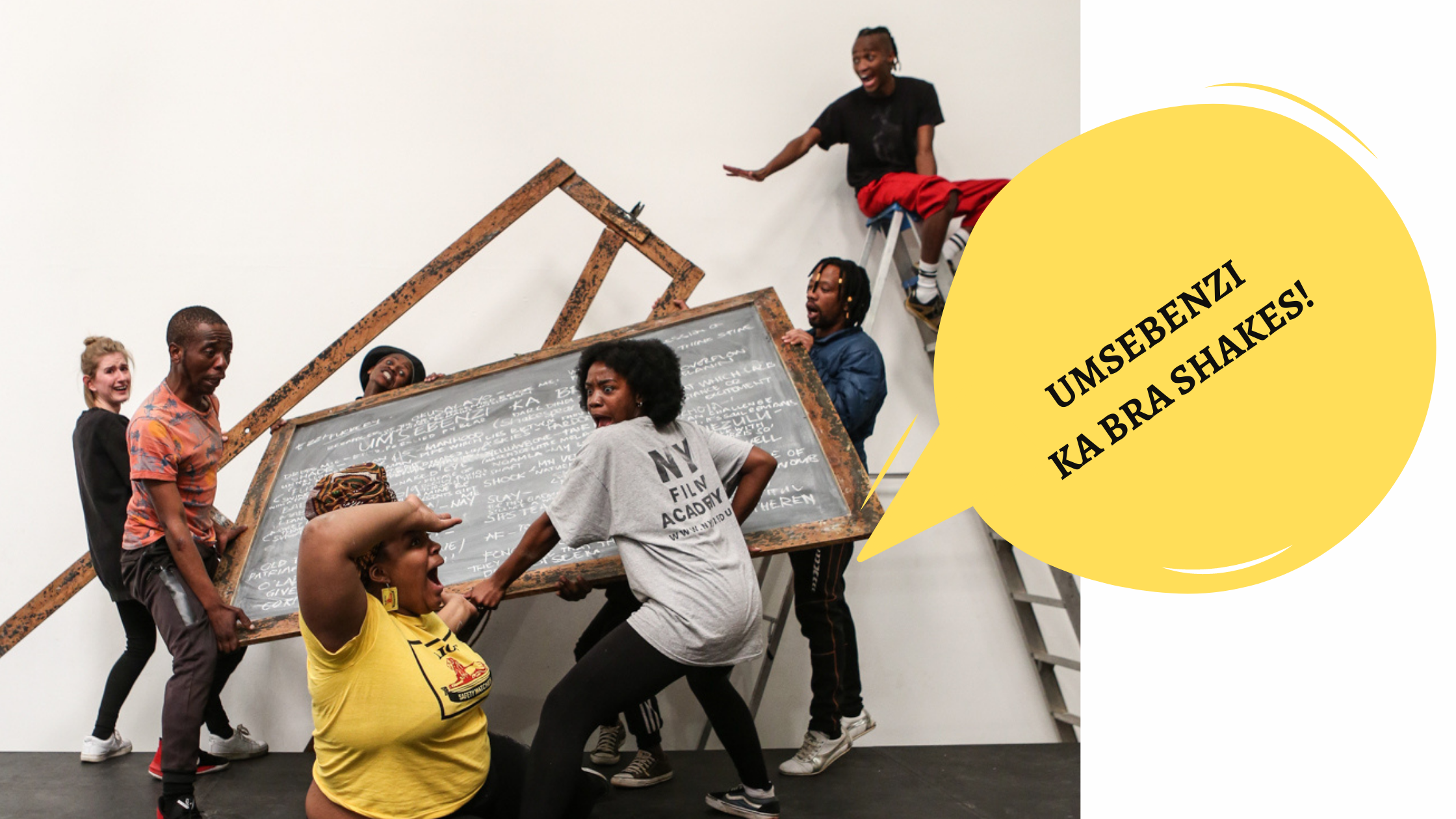 We can bring work to you, or arrange a theatre outing, if you prefer. We have also recently added digital products to our schools offerings for remote learners. Theatre outings can also be combined with an inner city tour experience.
In 2020, we are able to offer the following immediate term products :
English Curriculum / Theatre-Making  : "Umsebenzi Ka Bra Shakes : An Introduction to Shakespeare" (video recording)
Umsebenzi Ka Bra Shakes interrogates the use and relevance of Shakespeare, and indeed classic texts for South African performers, storytellers, makers, learners and audiences. It explores Shakespeare within culture and language contexts, raising questions around violence, masculinity and representation. This process driven exploration that brings together a creative team from various backgrounds, fully embraces the less good idea; creating from words and stories borrowed from Shakespearian texts and hopefully allowing something that is neither a South Africanised adaptation nor a translation to emerge.
Performed by KWASHA! Theatre Company & Johannesburg Awakening Minds Facilitated by Hayleigh Evans and Phala O. Phala. Created in collaboration with the cast.
English & Drama Curriculum (Revision) : "J.Bobs Live" (available online and in real life)
Using the now multi-award winning game show format, Standard Bank Young Artist Jefferson Tshabalala presents a game show that will have students begging to revise their exam work. How does it work? Simple. We take one Set Work. We devise a full Study Revision of it through game and play. We play with the learners and an hour later, a whole new visceral view of the material is created. Now, the students are ready to write on the subject, confidently.
Poems, selected Shakespeare and selected Drama setworks available.
Drama Curriculum : Playwrights discussion with Neil Coppen, Jane Taylor and Mike Van Graan (Video Recording available) 
Join the incredible writers of "Abnormal Loads", "Ubu and the Truth Commission" and "Green Man Flashing" in discussion about process, inspiration and seeing their work realised on stage. Facilitated by educator and theatre maker, Kirsten Harris.
***Keep and eye out for more playwrights and theatre makers discussions coming soon to the digital space.
We are open to discussion on commissioned curriculum work for 2021. For more info or to chat, email popartjhb@gmail.com
If you're a school in need of technical services (such as student training or rig set up and maintenance, please visit our POP TECH page)