POP Tech offers customised technical services to small spaces, pop up events and schools drama departments. 
WHY POPTech?
In the many years of operation, we have had the pleasure of taking some of our work to the schools and small venues circuit… and having the feedback from our technicians who have run these shows. We started to identify a 'problem' that can we know can be easily solved.
Many of the spaces that we have performed in, particularly in schools, are awesome spaces, buuuuut the technical aspect of the spaces are poorly designed and/ or maintained… So POP TECH was born!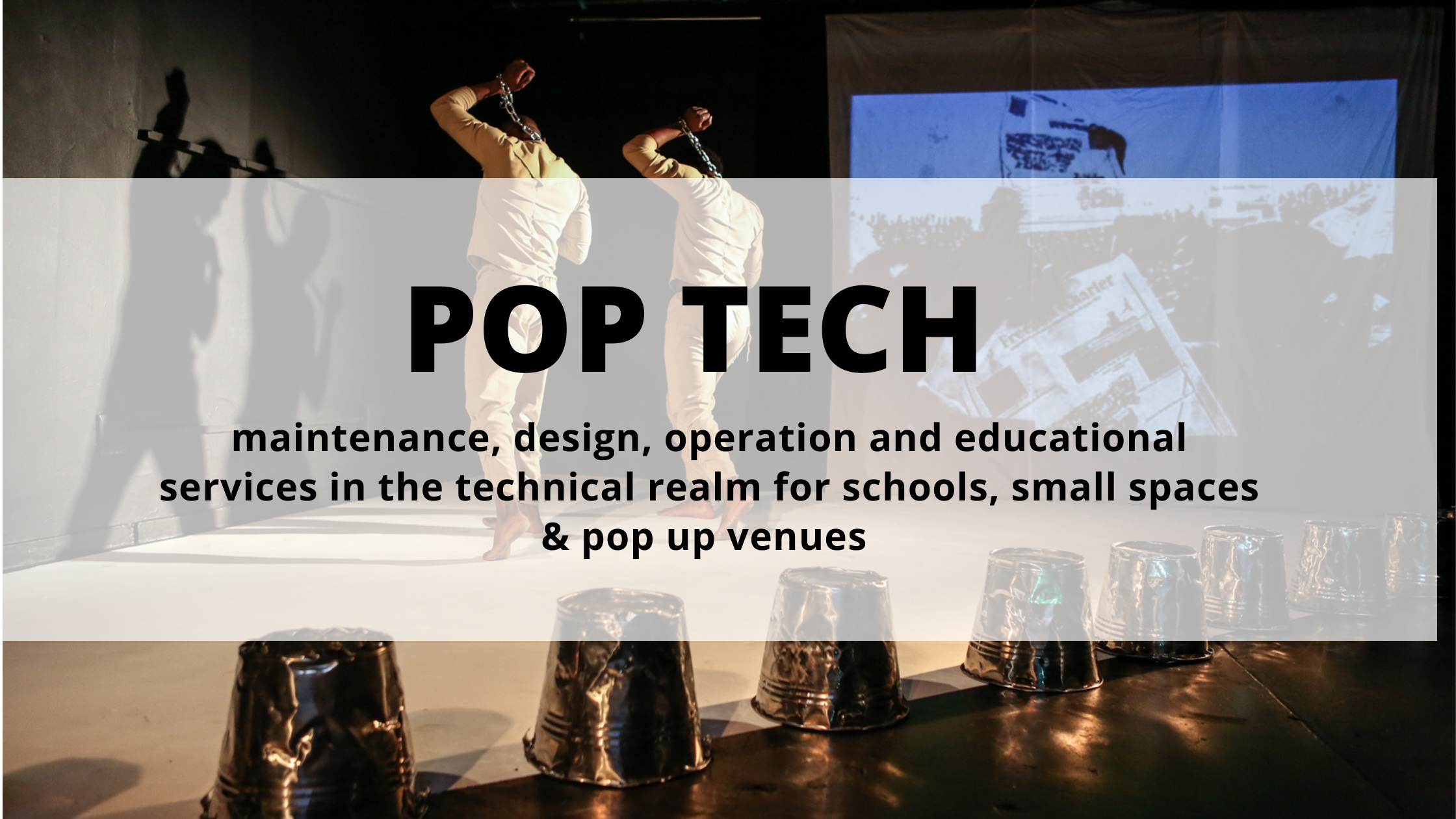 We aim to assist schools and students (and now pop up and new spaces) to get the most out of their facilities by offering maintenance, design, operation and educational services in the technical realm. These services will optimise your space and make it easy for you to upkeep your spaces.
THEATRE EQUIPMENT MAINTENANCE : For lighting and Sound Equipment…
Our technicians are often working in spaces where there is a lack of basic maintenance (blown bulbs, bad or dangerous cabling, poor speaker & acoustic placement), poorly designed lighting placement or a lack of knowledge with respect to the controlling systems. Luckily, we are solutions focused. 
Our team can assist with solving these issues simply, effectively and affordably. Whether it's ordering and replacing your bulbs, basic repositioning of your equipment, ordering good quality equipment or cleaning your cables… we want to help you make your space the most awesome space to stage awesome professional productions!
*** We also have a few parcans for sale for a few lucky buyers 🙂
LIGHTING DESIGN
On a most simple and effective level, we can use your existing rig to design a proper saturation rig for easy operation going forward. This means that, without fiddling with the position of your lights, most stage applications will be possible. This also means that you can limit the amount of students climbing on ladders. Phew. 
We can also suggest very effective upgrades to rig, lights and equipment that can make a big difference! We can also arrange ordering and delivery through our suppliers.
On a more complicated BUT AWESOME level: We also offer 3D Modeling of your theatre space. A 3D model of your venue will be beneficial because you can:
> Easily reference and explain what the theatre looks like and design a show before execution on the rig.
> Check the effect of a piece of equipment in the space before hiring or buying it.
> Prepare and check design for time saving
> create crossover with other faculties (such as technical drawing)
> teach a skill to students that are interested in design- as many LDs are designing in this way.
* A reference of a 3D model of the POPArt theatre (Maboneng) is available on request.
TECHNICAL OPERATION FOR PRODUCTIONS
Technical operation for major productions, as well as student exams
All our technicians have been working in 'festival type' environment for a number of years and have their 1000 hours of technical operation experience. This means that they know how to move in and learn the cues and rhythm of a show in a matter of hours! This service can also include advising, planning and sourcing of additional equipment where required.
SPECIALISED COURSES & WORKSHOPS
We also offer specialised courses and workshops on the technical aspect of theatre – as well as educating students / team members on your spaces' technical equipment and how to operate it- in order to empower them to operate shows going forward. This is an awesome opportunity to get students excited about other aspects of theatre, as well as break open sustainable career options for themselves.
* Multi-level learning plan available on request.
PRODUCTION ADJUDICATION
Adjudication for major productions, as well as student exams. POPArt has extensive reach and relationships with professional actors (theatre and TV/ Film) who make for great adjudicators. We are passionate about encouraging drama students to produce quality work, while also being aware that this is a sensitive stage in which to receive critique. All of our adjudicators have been in this position before, and are wonderfully sensitive beings.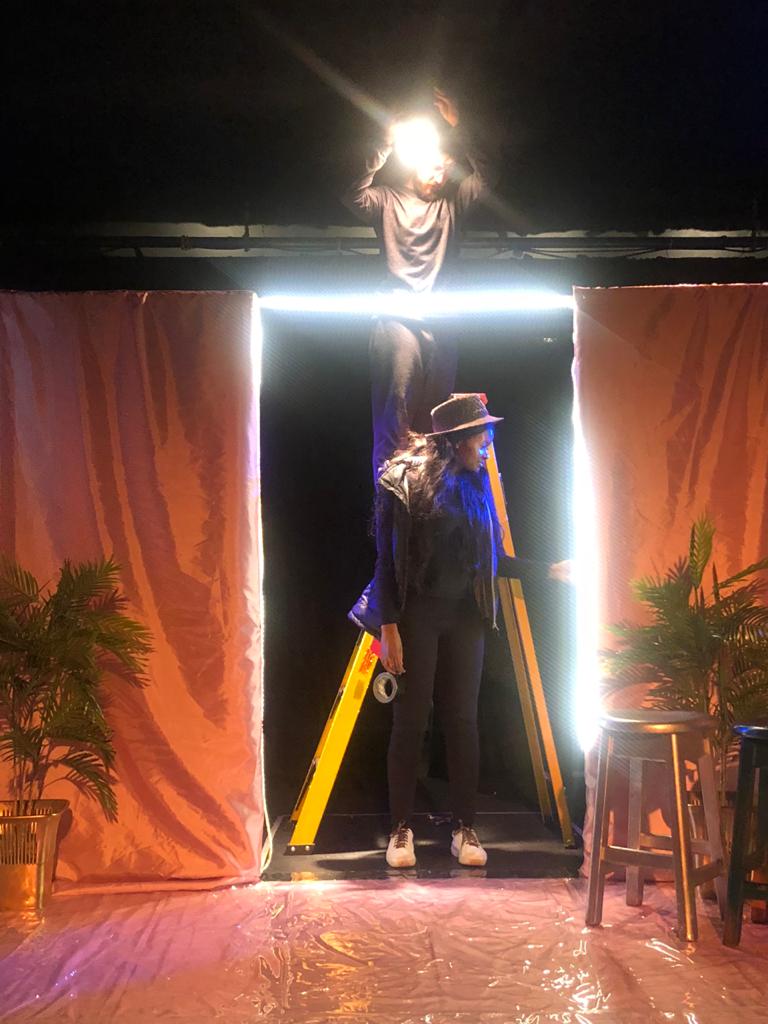 TECH TEAM : E & Zee
Emil Lars and Zanele Mthombeni are our core tech team at POPArt. Both hold a B-Tech Drama qualification from TUT and have been working with POPArt for several years. As our POPArt technicians, both have had the experience of working with a new show every week in our venue, as well as managing touring productions. They have also set up many a rig in many a venue, and accumulated many internet hours researching the latest gadgets. We like to pay it forward to, so we may sometimes have keen beans who are interested in theatre tech working as interns in our team.
GET IN TOUCH FOR A RISK FREE VENUE ASSESSMENT : Getting a POPTech quote is easy 😉
> STEP 1 : Risk free assessment (Our POPTech team will come to your venue to assess what work needs to be done)
> STEP 2: Get a Quote (Our quotations will include sourcing necessary fixtures that need replacement, as well as labour for execution of the work required)
> STEP 3 : Get it done (On approval of quote, we will set up necessary times and our POPTech team will come through and create your sparkling new rig). A 50% deposit is required upfront. Cancellations also charged at 50%
> Operating of shows and workshops will be priced based on hours, and / or scope of work.
Get in touch at popartjhb@gmail.com | + 27 82 472 2559 (Orly)
*** References available on request