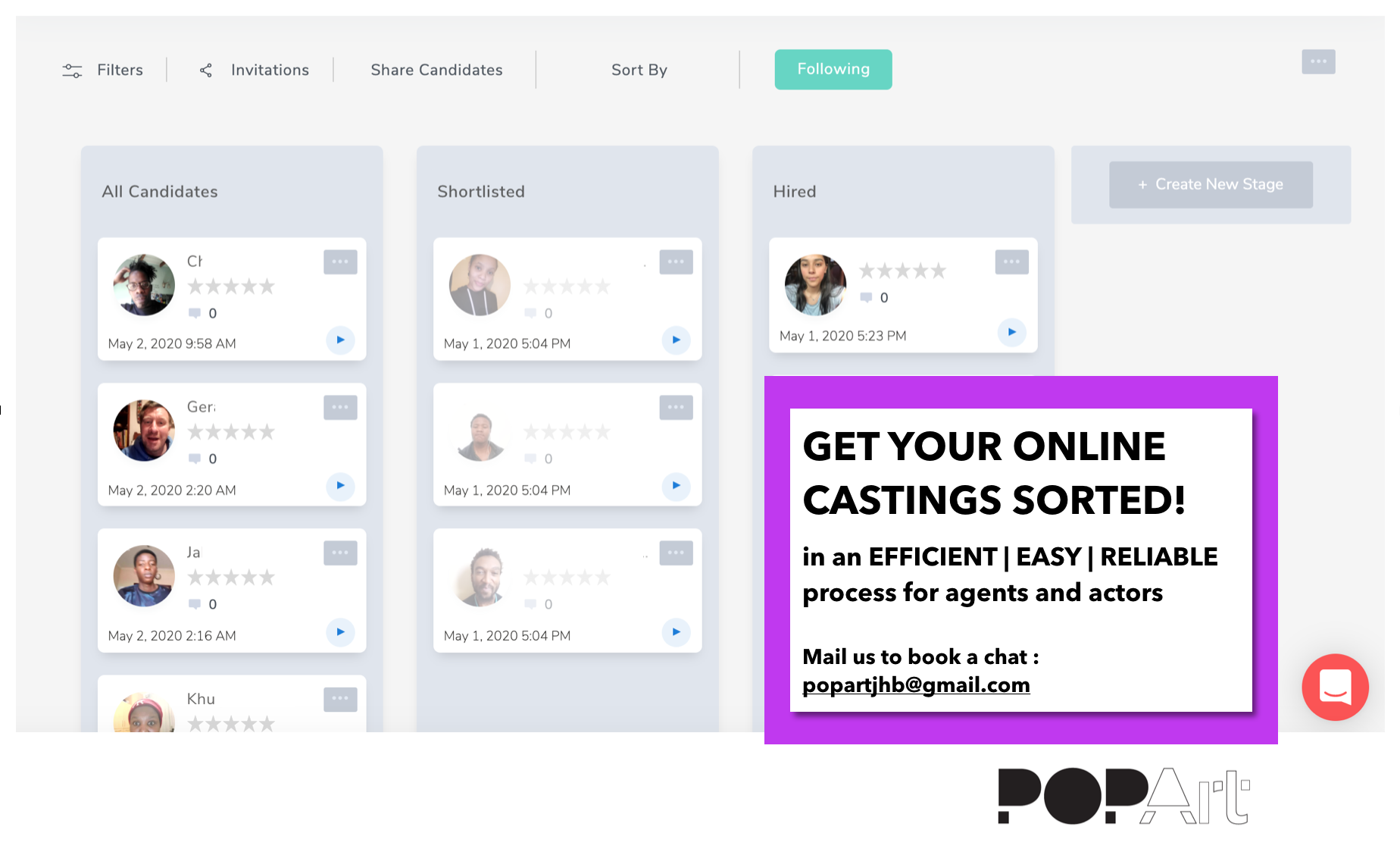 FOR CASTING AGENTS : ONLINE CASTING FACILITATION (FILMING & FILING SYSTEM):
Online casting has become a thing of necessity, and so we have taken the leap toward putting systems in place to help those who need to bring their businesses up to speed for the first round of castings. In a world of Covid-19 and beyond, we offer a quick and effective solution for self taping that has an excellent system for sharing and archiving the tapes that cuts out that major back and forth on whats app and tracks comments and feedback. And, where the auditioning actors only need about 25MB of data to upload their audition.
How it works in brief : 
> Actors would receive the audition format with pre set prompts (these can include profiles, availability, legal questions – as well as the audition itself) via a link. View a demonstration link for auditions HERE.
> The system allows for a deadline to be set, as well as for supporting docs such as CV and headshots to be uploaded if need be.
> The completed auditions are immediately neatly filed in an interface that is easily sharable with directors, producers and client (either via links or direct access to the system). The interface also allows for casting directors and producers to easily make a shortlist per job, so that 'tapes' are easily managed and archived.
We have piloted this process with actors and directors in POPArt's several online projects to date and have had great feedback from our users on both sides. As an actor-centric space with a decade of experience in production, POPArt combines technical know how and a deep knowledge of the industry to bring this new offering to the industry at large.  If you would like further details or to set up a time for a young demonstration of the backend system, send us an email at popartjhb@gmail.com
GENERAL CASTING FACILITATION/ ASSISTANCE:
POPArt has an extensive database of talented people, and a far reach in the professional industry. While we are generally happy to help with informal casting and references, we do also lend our skill and network to formally facilitate casting small scale projects.  If you are looking for a facilitator or a space to help you cast your project, whether it be a commercial, film, theatre production, web series, voice, campaign or basically anything where you require fresh talent, send us an email at popartjhb@gmail.com for a quote and standard rates.