The Fluidity of Resistance Online Festival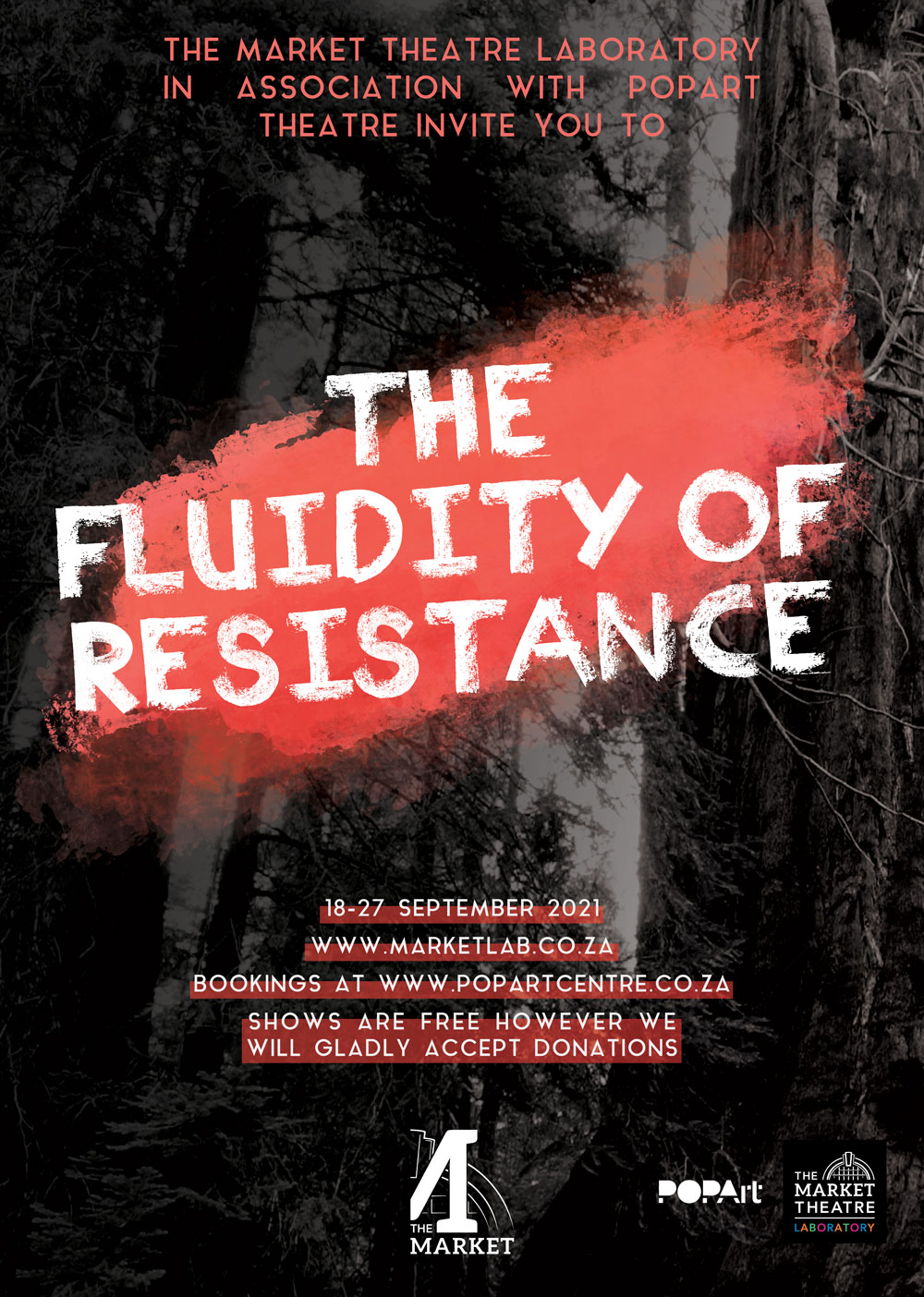 The Market Theatre in collaboration with POPArt Theatre presents The Fluidity of Resistance, an online festival devised by Kwasha Theatre Company with the first years from the Market Lab. The theme speaks to the notion of social protest exploring how individuals and specific groups of people challenge current societal norms to own their life choices. All the work was created by the teams in isolation.
The Festival is available online from 18 – 27 September. Browse below for the full festival content and click through to view the content.
Viewing is free, but donations are welcomed HERE.
The POPArt online platform is supported by the Department of Sports, Arts and Culture. Our content is audience and partner supported. Please feel free to subscribe to our YouTube channel to stay in touch with our content here.
---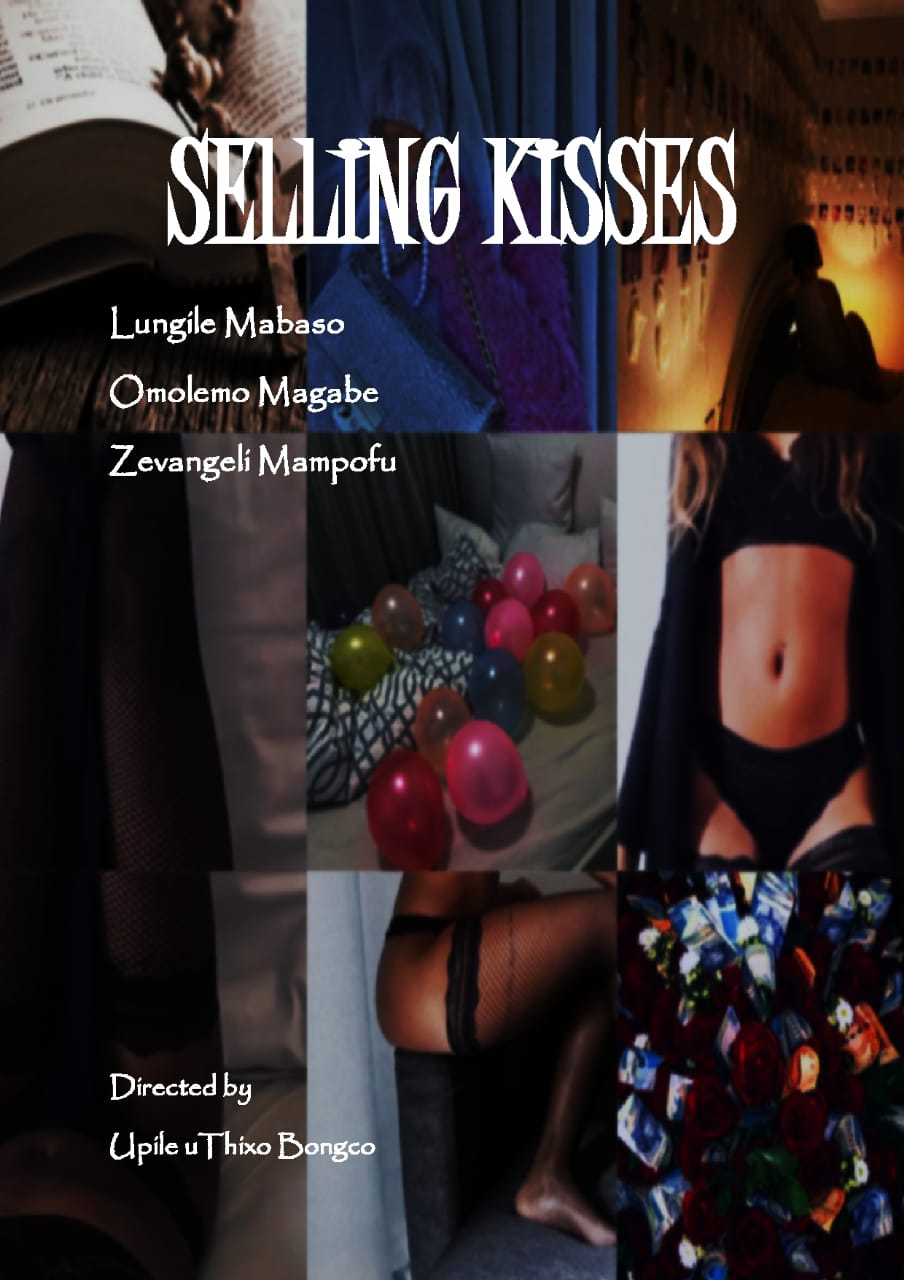 Selling Kisses (VIEW HERE ON INSTAGRAM)
[There are 12 videos in the series]
CLICK HERE TO VIEW ON YOU TUBE 
Cast: Lungile Mabaso, Omolemo Magabe and Zevangeli Mampofu
Created and devised: Director and cast
Director: Upile uThixo Bongco
A creative response to Proverbs 30: 20 "This is the way of an adulterous woman. She eats and wipes her mouth and says, I've done nothing wrong." This piece aims to explore Black womanhood and sexuality inspired by texts from Ruined by Lynn Nottage and Eclipsed by Danai Gurira.
---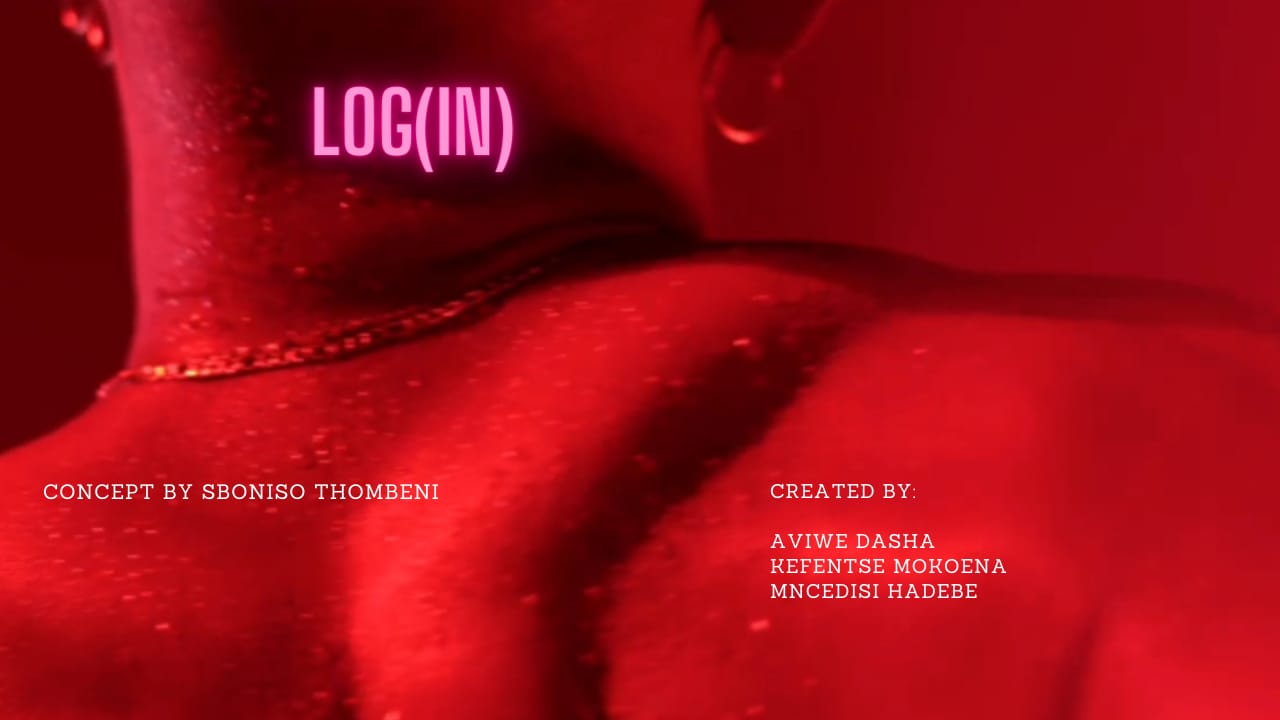 Log (In) (CLICK HERE TO VIEW) AGE RESTRICTION: 18+
Cast : Kefentse Mokoena, Aviwe Dasha and Mncedisi Hadebe
Created and devised: Director and cast
Director: Sboniso Thombeni
In a world that has always exploited female bodies through advertising because 'sex sells' Log (In) advocates the legitimacy of sex work by unpacking the tensions and imbalanced biases between  sex worker and consumer. Unveiling the nature of sex work as it evolves into a more lucrative digital presence, this piece positions sex work within a narrative of autonomy and empowerment.
---
Just for Gags (CLICK HERE TO VIEW)
Cast: Lerato Ndlovu, Buntu Ceza and Ntokozo Hadebe
Created and devised: Director and cast
Director: Mosie Mamregane 
A comical response to our different realities since the beginning of  lockdown. This piece is interested in looking at the various ways the everyday man has responded to the changes brought on by the pandemic through social media skits and gags using TikTok.
---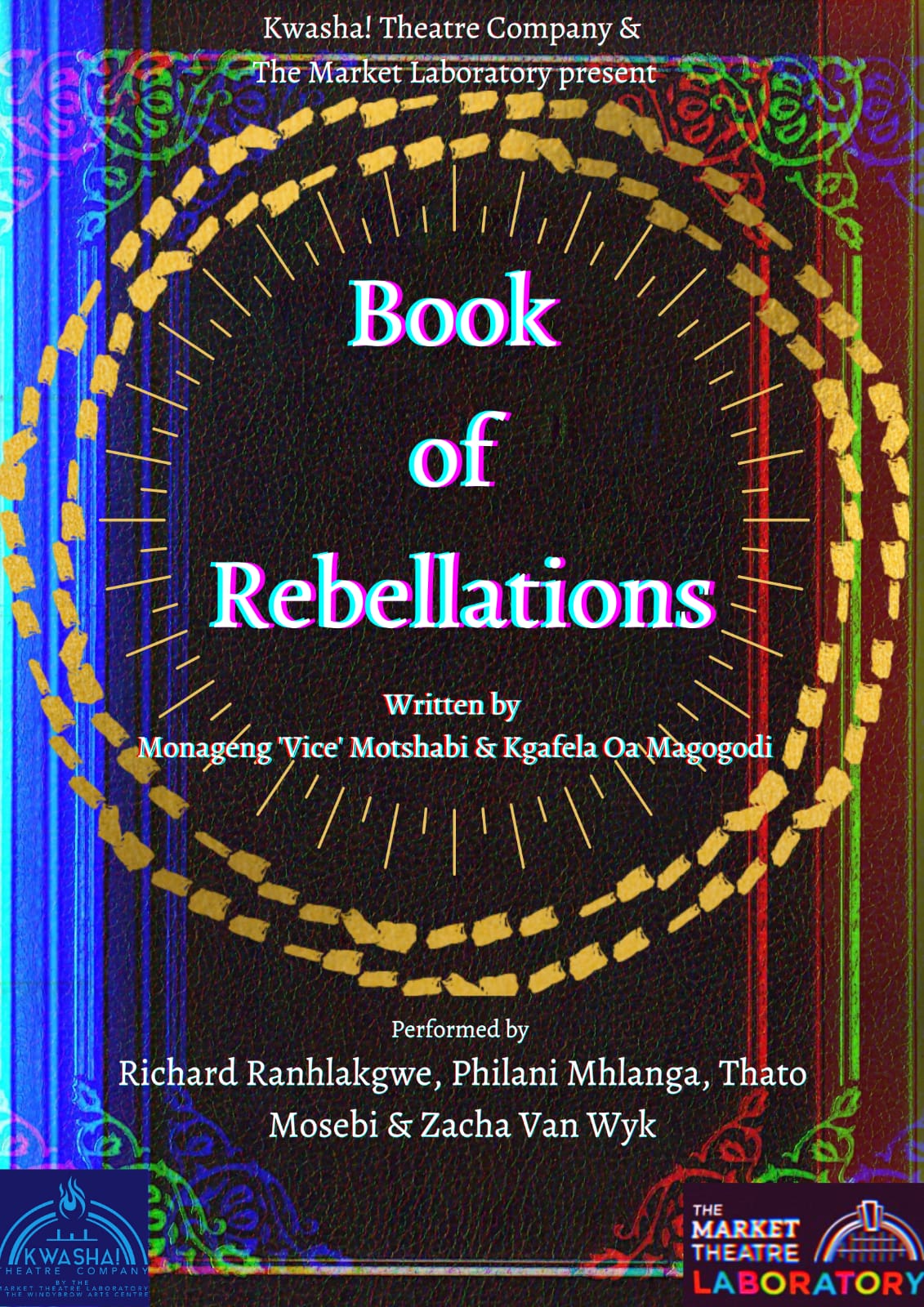 Book of Rebellations (CLICK THROUGH TO THE EXPERIENCE HERE)
Written by Kgafela Oa Magogodi & Monageng 'Vice' Motshabi.
Performed/Adapted: Philani Mhlanga, Richard Ranhlakgwe, Thato Masibi, Zacha Van Wyk.
Director: Joel Leonard
A radio play interpretation of Kgafela Oa Magogodi & Monageng Vice Motshabi's allegorical play; "Book of Rebellations". Using Afrofuturism as a departure point, this reinterpretation uses ten excerpts taken from the play to interrogate resistance, the collective vs. the individual and the spiritual journey that unwinds along the way. 
---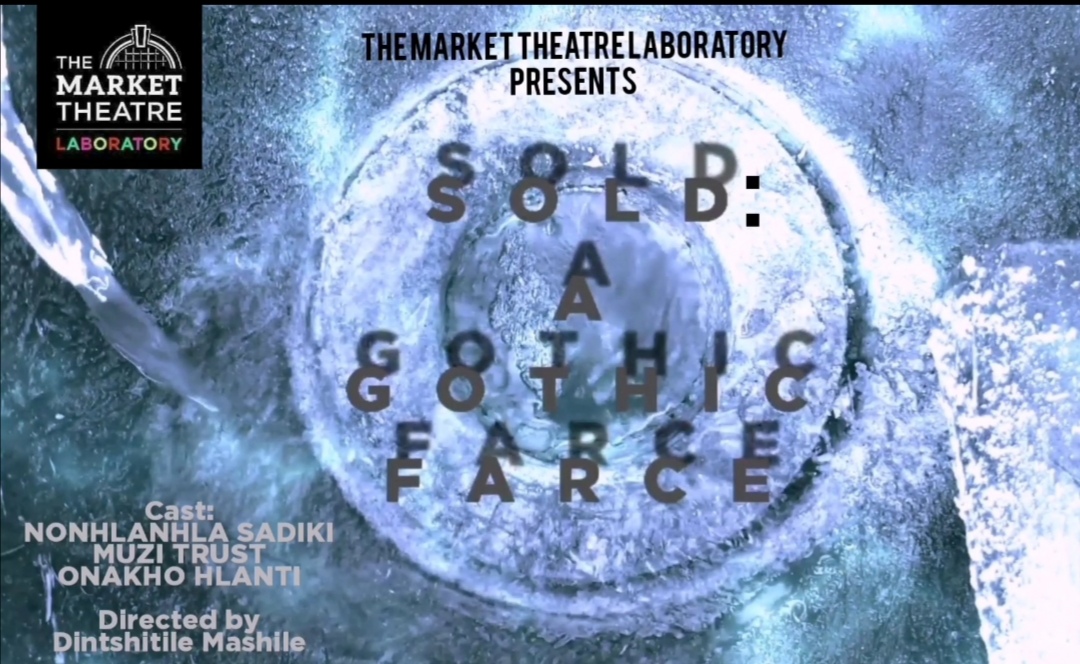 SOLD! A Gothic Farce (CLICK HERE TO VIEW)
Devised by Dintshitile Mashile and Cast Members – Nonhlanhla Sadiki, Onakho Hlanti & Muzi Trust 
Conceptualized & Directed by Dintshitile Mashile 
A short art film following a male and female's – one obsessed with being "liked" by the online masses & his pursuit towards fame and the other a professionally trained unemployed actress –  respective journeys before and after they consume a magic potion from a valuable source that grants them quick & easy access to a life of everlasting success. Little do they know, the consumption of this potion has dire consequences.
---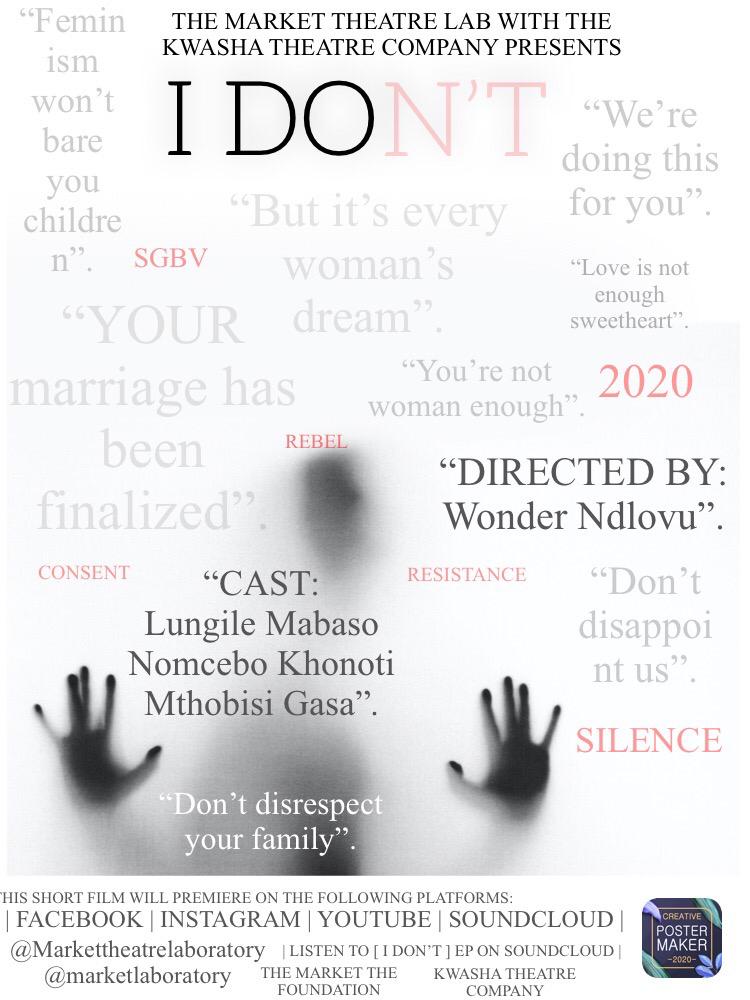 I Don't (CLICK HERE TO VIEW)
Cast: Lungile Mabaso, Nomcebo Khonoti, Mthobisi Gasa
Created and devised: Director and cast
Director: Wonder Ndlovu
A young woman finds herself at a crossroads: she must choose between her own happiness and pleasing her family. This short film takes us through her journey of self-discovery. No matter which way she turns, she will lose something precious.
---
The Fluidity of Resistance Online Festival is brought to you by